Features (2)
Friday, 09 December 2011 01:25
Written by
Grid2 provides additional styles for K2 from JoomlaWorks. This very popular extension gives you additional means to control and create content. You are free to use Grid2 without K2, but we have done the extra work to style K2 to fit the whole theme. Here is an excerpt about K2 and what it can do for you.
Friday, 29 April 2011 02:54
Written by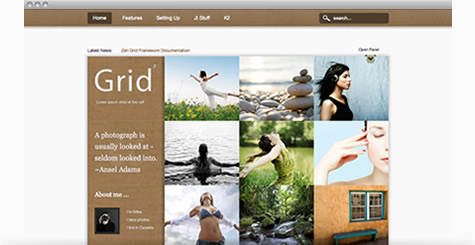 Grid2 is a sharp Joomla template with soft gradients that is ideal for a photographer's folio, a magazine or a personal blog. It's built on the Zen Grid Framework and comes with 20 immaculate themes full of texture, colour and finesse. Grid2 also comes ready with a slick new K2 template that is ideal for a magazine or blog.
Grid2 Template features at a glance.
Subtle patterns fused with bold colours
20 Style Presets
Unique K2 Joomla template
Joomla 1.5 template and quickstart available
Source PSD and PNG  included